We are very proud to announce the release of our long awaited new album, 'Historical Graffiti'! Recorded in Buenos Aires, at the legendary ION studios. Please see the links below the ablum artwork (by the amazing Jasmin Lamerain!) to order our music, via Burning World Records and Lay Bare Recordings...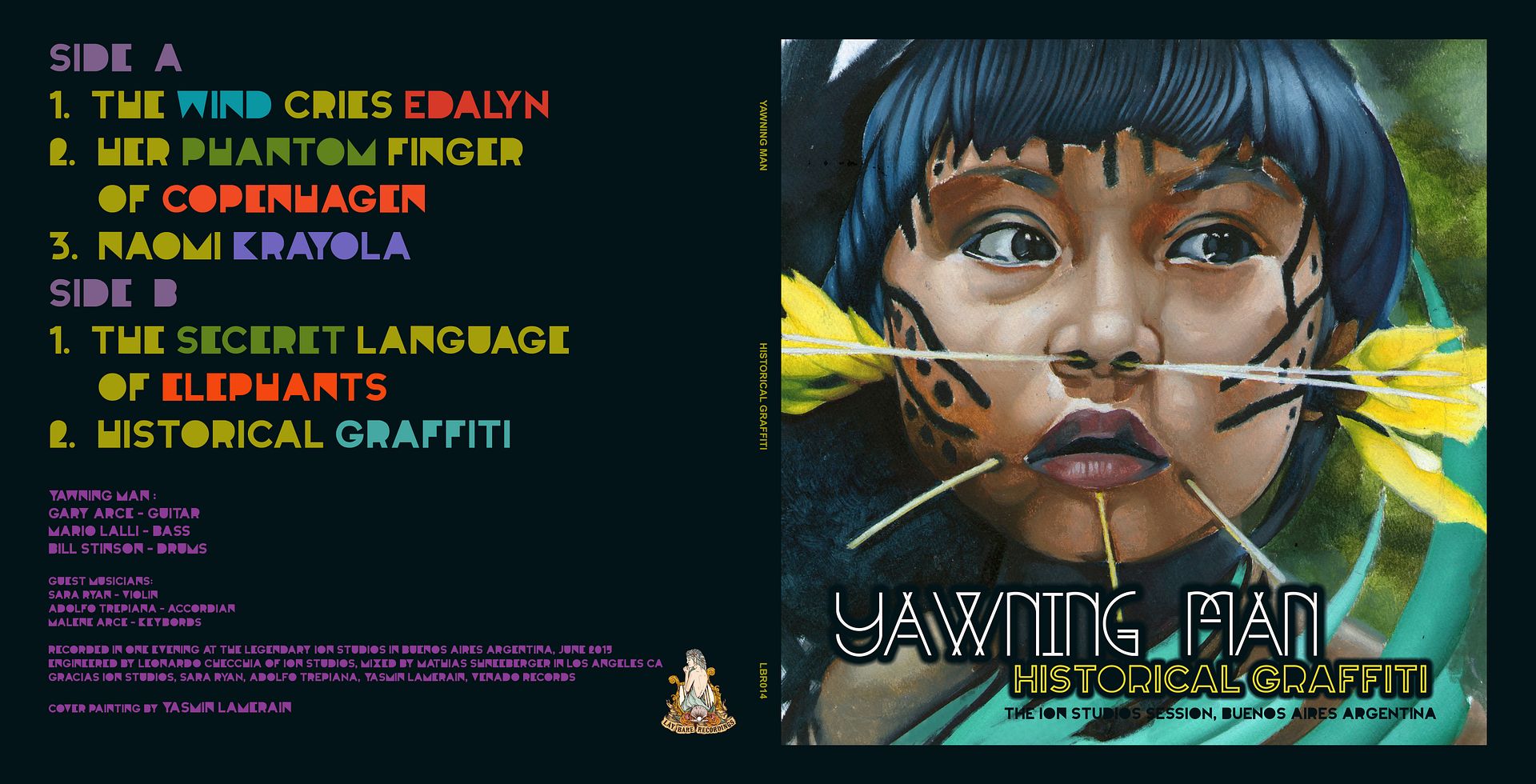 CLICK HERE to order the COLORED, LIMITED EDITION VINYL!!
CLICK HERE to get the immediate digital download of the album and artwork! And other music by Yawning Man!
And remember, we're going on tour September 1st, and can't wait to see you! Check the dates below. Thank you so much- we love you all.
Yawning Man will be touring EUROPE this September!
Hombre Bostezando en SudamÉrica...

WE ARE COMING TO SOUTH AMERICA!
June 18th - Santiago, Chile @ Bar Loreto
June 19th - Valparaiso, Chile @ Ele Bar
June 20th - Buenos Aires, Argentina @ Festival VR, Club V
June 21th - Buenos Aires, Argentina @ Festival VR, Club V
June 24th - Neuquén, Argentina @ Pirkas

YAWNING MAN & FATSO JETSON:
TOUR OF EUROPE 2015!
Click Photo for dates/venues...
NEW YAWNING MAN ALBUM to come!

THANK YOU to everyone who so very generously donated to our IndieGoGo Fundraiser! It was a big success.
We are so very pleased, and ineffably grateful to have exceeded our goal! We will be donating 10% of the overage to our charity (Alliance For Animals), and even after the IndieGoGo fees and other various costs, we definitely have the funds required to do a quality recording of the long awaited, FULL LENGTH YAWNING MAN album, thanks to the generosity of you all! Gary has already begun writing the songs and soon, it's into the studio for the engineering/recording at Thunder Underground Studios.

We would like to extend big, HUGE thanks to all of you, whether you donated to our campaign or not. Without you, we couldn't do what we do. We do not consider you 'just' our fans; to us, you are our friends and our family. Cheers!

Click here to see our Fundraiser on IndieGoGo
____________________________________________________________________________________________________________________________________________________________________________________________________ As of Springtime 2013, Yawning Man is very honored to announce Ayers Guitar Co.'s OFFICIAL endorsement of Gary Arce! David Ayers (Owner and luthier of Ayers Guitar Co.) queried Gary extensively as to his preferences regarding particular tones and nuances, etc. and, with Gary's specs, thus was created a unique, one-of-a-kind guitar made to honor and perpetuate that signature sound that nobody but Gary can create. Only someone as skilled as David Ayers can pre-articulate such a sound with the literal creation of 'just' the right instrument. David himself hand-delivered the custom made guitar to Gary, just before he departed with Mario and Alfredo onto Europe, and he played the hell out of his beautiful, green abalone laden guitar for the whole tour.

*Click the photo below to go to check out Ayers Guitar Co.*





Yawning Man is gearing up to tour Europe: Spring 2013... Their first stop will be the UK to play London Desertfest on April 26! Then, it's off to Europe to play Desertfest Berlin, April 27. More European dates to follow- please check below for the dates and venues.

26.04.13 FRI UK LONDON DESERTFEST with Yawning Sons: "Godfathers of the Desert"
27.04.13 SAT GER BERLIN DESERTFEST
28.04.13 SUN GER Hamburg Molotow
29.04.13 MON GER Frankfurt Am Main Orange Peel
30.04.13 TUE CH Geneva L Usine
01.05.13 WED ITA Zerobranco Maximum Festival
02.05.13 THU GER Stuttgart Keller Club
03.05.13 FRI ITA Bozen Bunker
04.05.13 SAT A Salzburg Rockhouse
05.05.13 SUN CH Lucerne Sedel
06.05.13 MON A Vienna Arena
07.05.13 TUE GER Munich Feierwerk
08.05.13 WED GER Cologne Underground
09.05.13 THU FR Roubaix La Cave Aux Poetes
10.05.13 FRI BEL Leuven Sojos
11.05.13 SAT GER Erfurt Stadtgarten

Check out this beautiful screenprinted poster, "The Godfathers Of The Desert", available ONLY at London Desertfest. Limited to 50 high quality prints, it is an exclusive 3 colour silkscreened A2 poster on 300 gsm ivory card.



YM show in LA!

After Gary, Mario and Bill have treated the Europeans with such gems as Catamaran with Mario on vocals, it's been well about time for them to play a show in the States. Highlight October 1st 2011 in your calenders and see Yawning Man perform at Cafe 322, LA! Check their facebook event for details and also don't miss the beautiful poster done by Skillit!
On a side note, the past shows section is still in need of many updates that include YM's recent two weeks tour in Europe. If you have or know of any live material that you would like to contribute to this section, email it to: pastshows[at]yawningman.com. Thanks!
YM European Tour 2011 Even more new dates! Yawning Man are coming back to Europe this summer! You might have already read it on Yawning Man's brand new Facebook website. Finally, we are able to confirm the following dates:

6/17/2011 – Miles Away Festival c/o Sinister Noise Club, Roma/Italy (+ Tarsvs + Turbomatt)
6/18/2011 – Generator Party - Latina
6/19/2011 – Tago Mago, Massa/Italy
6/20/2011 – Aerosol Lab, Villanuova Sul Clisi (BS) (+ Manthra Dei)
6/21/2011 – Arena, Vienna/Austria
6/22/2011 – Graf Hugo, Feldkirch/Austria
6/23/2011 – Immerhin, würzburg/Germany
6/24/2011 – Nouveau Casino, Paris/France
6/25/2011 – Gaswerk, Winterthur/Switzerland

Besides this, there will also be a secret show on 15th June 2011. This year's line-up will be Gary Arce, Mario Lalli and Bill Stinson! Stay tuned for more info! YM @ Live Music Archive Yawning Man is now part of the Live Music Archive at www.archive.org. You can browse and download live recordings from Yawning Man shows, most of which have also been included into the "Past shows" section, where you can listen to them online. Please spread the word and upload any material you have (Check out this PDF explaining how to get started!). All information posted at LMA will also eventually find its way into the "Past Shows" section on this website. Thanks everyone and stay tuned! Past shows In order to fill the gap until Yawning Man will be back on the road again the "Past shows" section has been heavily updated and is now stuffed with lots of live videos, photos, posters and setlists. Thanks to everyone who contributed to this section! If you have any material that you would like to share send it to pastshows[at]yawningman.com. New album "Nomadic Pursuits" Yawning Man's new album "Nomadic Pursuits" is now out on Cobraside! Read a review about it here on The Obelisk. Merch store Yawning Man shirts/cds available at www.rrise.com. Check it out! European tour dates 2010 New dates confirmed and more dates tba!



6/18/2010 – Schlachthof, Wiesbaden/Germany
6/19/2010 – Sojo's ( + Hypnos 69), Leuven/Belgium
6/20/2010 – Hellfest, Clisson/France
6/21/2010 – Fete de la Musique, Lille/France
6/22/2010 – L'international, Paris/France
6/23/2010 – Koornbeurs, Delft/The Netherlands
6/24/2010 – Little Devil, Tilburg/The Netherlands
6/25/2010 – Groovestation, Dresden/Germany
6/29/2010 – Wild at Heart, Berlin/Germany
6/30/2010 – MUZ, Nuernberg/Germany
7/01/2010 – 1210, Stuttgart/Germany
7/02/2010 – Sedel Summer Event, Lucerne/Switzerland
7/04/2010 – Mochvara , Zagreb/Croatia
7/05/2010 – Arena ( + Mondo Generator), Vienna/Austria
7/07/2010 – NIL Club , Potsdam/Germany
7/08/2010 – AJZ, Bielefeld/Germany
7/09/2010 – Stoned from the Underground , Erfurt/Germany
7/10/2010 – Od Zmierzchu Do Switu, Wroclaw/Poland

The line-up will be: Gary Arce, Alfredo Hernandez and Mario Lalli